This section provides an overview for tact switches as well as their applications and principles. Also, please take a look at the list of 7 tact switch manufacturers and their company rankings.
What Is a Tact Switch?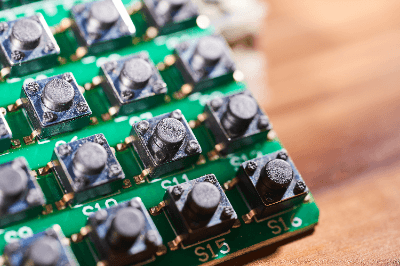 Tact switches, also called tactile switches, are a type of switch for low currents. The switch is energized only when it is pressed, and de-energized when it is released. The tact switch also has a clicking sensation when the switch is pressed, providing the operator with sensory feedback as to whether or not the switch has been pressed. Various types of switches exist, depending on their shape, size, and mounting method on a circuit board, and are used for different purposes.
Uses of Tact Switches
Tact switches are widely used in electronic devices that require human input operations, such as printers, washing machines, and other electrical appliances, as well as various control panels. Ultra-small tact switches are ideal for electronic devices that require space-saving mounting, such as smartphones. Tact switches are also available in sealed types, which are waterproof and dustproof, and are used in control panels used in bathrooms and in electronic equipment that is expected to be used outdoors.
Principle of Tact Switches
Tact switches are mainly composed of the following five parts. By changing the shape and materials of the parts, a soft or firm clicking sensation can be achieved to suit various applications.
Cover parts
Push plate
Film
Movable contacts
Base part with fixed contacts
The above parts are stacked in order on top of the base parts in 5.
When a finger is pressed on a tact switch with this component configuration, the push plate is pushed in, which pushes the movable contact, and the movable contact reverses and makes contact with the fixed contact, causing current to flow (state of switch ON).

Since the movable contact has spring-like characteristics, when the finger is released, the movable contact reverses and returns to its original state, the movable and fixed contacts separate, and the switch is turned OFF.
The movable contacts, which have spring-like characteristics, are designed to physically repeat the reversal. However, due to the ingenuity of the materials and shape, they generally require high durability to withstand 100,000 to 10 million cycles of use.
*Including some distributors, etc.
*Including some distributors, etc.