This section provides an overview for terminal boards as well as their applications and principles. Also, please take a look at the list of 20 terminal board manufacturers and their company rankings.
What Is a Terminal Board?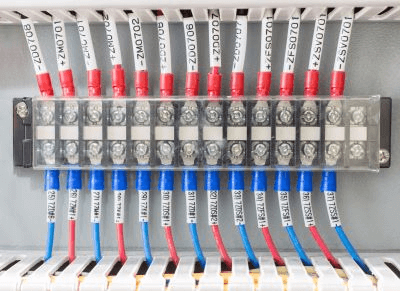 Terminal boards are usually wall-mounted cabinets with terminal blocks and other components inside. Terminal boards are used to connect the cables from the distribution board to various types of electrical equipment. Terminal boards have many connection points for electric circuits and terminals for testing. The terminal board with the required terminal configuration is selected according to the application.
There are various types of terminal boards, including those for indoor and outdoor use, as well as telephone terminal boards and grounding terminal boards, for inspection. Outdoor terminal boards are also available for tanker trucks.
Uses of Terminal Boards
Terminal boards are used for the aggregation and distribution of power and signals. Electric current and signals supplied from switchboards are further distributed to terminal boards and connected to various types of electrical equipment. The terminal blocks in terminal boards are used to connect wires and cables.
Terminal boards are also used to connect electrical equipment with various cables, such as telephone, LAN, emergency broadcasting, intercom, and caller ID.
Grounding terminal boards are also used for inspection purposes of electrical equipment.
Principle of Terminal Boards
Terminal board cabinets are made of stainless steel, steel plate, or ABS resin. Many of them have terminal blocks located inside. Crimp terminals, plug-in connectors, one-touch connectors, etc. may be used to connect wires.
On the back of the terminal board, design drawings, such as connection diagrams and system diagrams, are shown.
A grounding terminal is connected to the outside of the grounding terminal board, and when connected to a measuring terminal, the grounding resistance can be measured. The terminal board is placed with wiring space provided.
Weak power terminal boards include telephone, LAN, TV coaxial cable, and intercom terminals.
Terminal boards for telephone lines have telephone lines and cables drawn in at the base of the terminal board. There are two types of telephone terminal boards: MDF and IDF; MDF is often used exclusively for NTT-related purposes and is managed by NTT. IDFs are used to distribute the telephone lines to each floor of an apartment building via the MDF.
*Including some distributors, etc.
*Including some distributors, etc.