This section provides an overview for insulated terminals as well as their applications and principles. Also, please take a look at the list of 32 insulated terminal manufacturers and their company rankings.
What Is an Insulated Terminal?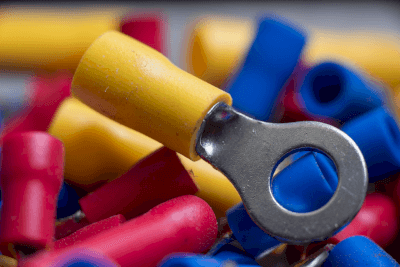 Insulated terminal refers to a bare crimp terminal that has an insulated coating at its base. The insulation is generally made of vinyl chloride or nylon. The insulation coating reduces the risk of short-circuiting by touching between terminals and also reduces the risk of electric shock from hand contact.
The type of terminal is no different from bare crimp terminals. There are R-type with a round shape, Y-type with two corners, SP-type with a rod shape, and SPF-type with a plate shape. Those with a two-tiered insulation sheath are also called NBT type.
Uses of Insulated Terminals
Soldering is generally used to connect wiring, but there are some devices that require skill or cannot be soldered. In such cases, crimp terminals are used. Insulated terminal is a crimp terminal, so it is crimped onto electrical wiring and connected to a terminal.
There are R-type and Y-type crimp terminals, but basically, the R-type is recommended because it is more difficult for the R-type to come off due to loosening of the screw, which can cause a short circuit. However, since the screw must be removed, and the terminal changed every time, the Y type is used if the user wants to avoid this hassle.
Principle of Insulated Terminals
A crimping tool is used to attach crimp terminals, and the action performed by the crimping tool is called crimping. The correct amount of crimping can be achieved by using crimping pliers that match the size of the joint area of the crimped terminal. Since bare crimp terminals and insulated terminal are the same size, they can be crimped with the same crimping tool.
Insulated terminals are insulated with an insulating coating, such as vinyl chloride or nylon, to provide insulation. An atom has a nucleus and electrons. Electricity flows when electrons move. However, if the attraction between the nucleus and electrons is strong, the electrons cannot move and electricity cannot flow. This is the mechanism of insulation.
What we must pay attention to with insulators is when high voltages are applied. If a high voltage that exceeds the dielectric strength is applied, the insulator will be destroyed and electricity will flow. A typical example is lightning. Air is an insulator, but lightning strikes it because it exceeds its dielectric strength.
*Including some distributors, etc.
*Including some distributors, etc.