This section provides an overview for hose fittings as well as their applications and principles. Also, please take a look at the list of 70 hose fitting manufacturers and their company rankings.
What Is a Hose Fitting?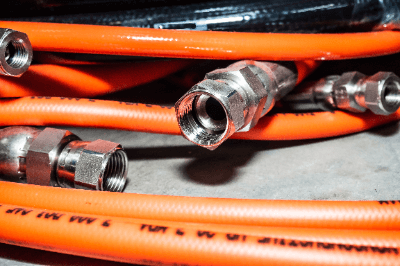 There are many types of hose fittings for different applications.
There are hose fittings for liquids and fittings for gases, and the material varies depending on the liquid or gas to be flushed. These materials include fluoroplastic, brass, or stainless steel, threaded coupler, and one-touch, as well as sealing methods that use O-rings and ferrules.
It is necessary to select the appropriate hose fitting from among many types depending on the material of the hose and the liquid or gas to be flowed.
Uses of Hose Fittings
Hose fittings are used to connect hoses.
A typical example is when you want to extend a hose for watering a garden, and you want to connect the hose you are using to the hose you want to extend.
Leakage
When used in factories, liquid leakage is strictly prohibited, so screw-tight type hoses or couplers are used to prevent leakage.
Liquid leaks are easily detected because they drip down and accumulate, but gas leaks are difficult to detect. 
Principle of Hose Fittings
Hose fittings for connecting two hoses are divided into male and female fittings, so it is necessary to have both types of fittings. In this case, couplers and Swagelok fittings apply. There is also a type of coupling called a bamboo shoot coupling, which has a bamboo shoot-like projection on both sides.
When connecting a hose to equipment, the threaded part of the fitting is inserted into the equipment and the hose is inserted into the protrusion on the other side. The end in which the hose is inserted is then tightened.
Special care must be taken when using these fittings for sanitary food piping. If there is a step in the threaded part inside the fitting, the liquid may not flow through that part and bacteria may grow.
It is also important to pay attention to the material used. When acidic liquids are to be flushed, metallic fittings such as brass or stainless steel may corrode. In this case, it is necessary to select a highly acid-resistant material, such as fluoroplastic .
*Including some distributors, etc.
*Including some distributors, etc.