This section provides an overview for spiral conveyors as well as their applications and principles. Also, please take a look at the list of 22 spiral conveyor manufacturers and their company rankings. Here are the top-ranked spiral conveyor companies as of March, 2023: 1.CHL Systems Inc..
What Is a Spiral Conveyor?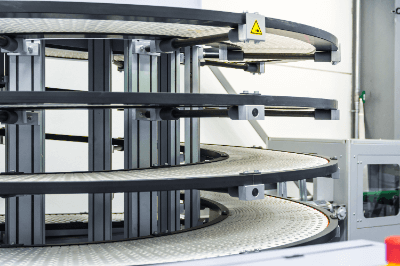 A spiral conveyor is a type of belt conveyor with a spiral vertical line.
Compared to a normal horizontal line, a spiral conveyor can be installed without occupying floor space, thus saving space on the conveyor line.
Drum spindle types and drumless types are available, and they can be used according to the layout. Various functions such as heating sterilization and cooling functions can be added with auxiliary equipment.
Some manufacturers refer to horizontal, rectangular conveyors with built-in screws used for sludge treatment as spiral conveyors, but this section describes vertical spiral conveyors.
Uses of Spiral Conveyors
Spiral conveyors are mainly used in food factories. They are used to convey vacuum-packed foods, drinking water in plastic bottles, canned foods, bottled foods, etc. A spiral conveyor with a cooling function is called a spiral freezer. Others with a heating sterilization function are designated by their steamer specifications, etc. They can perform heating sterilization and cooling functions and take measures to prevent food poisoning in accordance with HACCP standards, which are indispensable in the food manufacturing industry.
The drumless type is compatible with flexible layout settings, and can be installed throughout a smaller floor space because it can be inserted and removed from the bottom of the machine.
Some are equipped with an automatic CIP cleaning function, which allows for easy cleaning at the touch of a button without having to disassemble any internal parts, thus removing dirt from the conveyor without any hassle. This is ideal for food factories where the growth of food poisoning bacteria must be controlled.
Principles of Spiral Conveyors
Spiral conveyor belts are mainly made of resin or stainless steel. It consists of rectangular resin or stainless steel slats that are connected in a bellows-like structure. Compared to belts made of softer materials such as those used in rubber belt conveyors, these belts are harder to the touch.
The conveyor is equipped with a set of left and right guide rails at both ends to prevent products from falling off. Chains are laid vertically between the left and right guide rails at equal intervals, and a plastic or stainless steel belt is attached to the chains to maintain the shape of the conveyor.
The drive motor transmits rotation to the chain to drive the belt in the same way as a normal conveyor, but the chain used in a spiral conveyor differs. It is called a curved chain, which has the property of bending greatly in the lateral direction, which is why the conveyor can maintain its spiral shape. The curved chain is covered with a slat structure of resin or stainless steel, and the product is placed on top of the structure.
For those with heat sterilization and cooling functions, the perimeter of the conveyor is covered with heat-insulating panels. By applying steam or cold air to the panel-covered interior, the products on the belt can be heated or cooled.
*Including some distributors, etc.
*Including some distributors, etc.