This section provides overview, applications, and principles of pcr tubes. Also, please take a look at the list of 6 pcr tube manufacturers and their company rankings.
What Is a PCR Tube?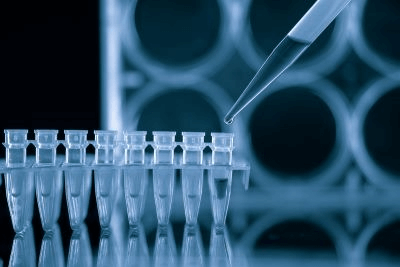 PCR tubes are plastic tubes made specifically for use in PCR analysis. Polypropylene is usually used as the material, and a wide variety of sizes, shapes, and colors are available.
Uses of PCR Tubes
The PCR in PCR tubes is an acronym for polymerase chain reaction, a technique that uses DNA polymerase to amplify a target DNA sequence from one to several million copies in a short period of time. Specifically, the series of 1-3 below reactions are called "cycles" and 25-35 cycles are repeated to synthesize copies of the target DNA in an exponential manner. The methods are as follows. 
Denaturation: The double-stranded DNA template is heated to separate the DNA strands.
Annealing: Short DNA molecules called primers are attached to adjacent regions of the target.
DNA Elongation: DNA polymerase synthesizes the complementary strand of the template in the 3′-end direction starting from each primer.
The device used to automatically control the temperature cycle and incubation time in PCR is a thermal cycler. PCR tubes are manufactured for use in a thermal cycler. In order to select the correct PCR tubes, it is necessary to understand the specifications of the thermal cycler to be used. In addition, since there are various types of PCR such as standard PCR, gradient PCR, real-time PCR, and qPCR, it is necessary to select the appropriate PCR for your purpose. At the same time, it is also important to properly prepare the experimental apparatus and reagents according to the type and purpose.
Structure of PCR Tubes
PCR Polypropylene is usually used as the material for PCR tubes. Polypropylene is chemically inert and can withstand rapid temperature changes during thermal cycling. In addition, the tube walls are manufactured to be thin and uniform to enhance heat transfer from the thermal cycler. In addition, they are carefully manufactured to be free of impurities such as dust, endonuclease, pyrogens, DNA, lubricants, dyes, heavy metals, fillers, etc. This is to ensure that the product is not contaminated during manufacturing. This is because if the product is contaminated during manufacturing, dust particles can remain and interfere with PCR, or DNA fragments can serve as templates for nonspecific amplification, resulting in reduced accuracy. The structure consists of a tube part that holds the sample and a cap part, which can be a single type with one separate tube, or an 8- or 12-tube type with multiple tubes. There are two types of cap shapes: flat and domed, with one cap per tube, and multiple caps in a row, separate from the tube. Tubes are available in two types: one with a normal height (standard profile) and the other with a shorter height (low profile). In addition to the clear, transparent type, there is also a white one.
How to Select PCR Tubes
It is important to select a PCR tube that is appropriate for the type of experiment and the thermal cycler you are using. For example, clear tubes (transparent type) make it easy to check the contents, while white tubes prevent fluorescence from refracting and diffusing outside the tube, thus increasing the sensitivity of qPCR. Domed caps transfer heat from the thermal cycler more quickly, while flat caps can be marked with a marker and are easier to puncture with a needle during sample collection. Low-profile tubing's shortness minimizes the space area in the reaction vessel, reducing the effects of evaporation and providing higher thermal conductivity than conventional tubing. Low-profile tubes are sometimes referred to as fast tubes because they are compatible with fast thermal blocks. PCR tubes are suitable for small-to-medium scale PCR analysis, while PCR plates are appropriate for larger scale.
*Including some distributors, etc.
*Including some distributors, etc.