This section provides an overview for battery testers as well as their applications and principles. Also, please take a look at the list of 10 battery tester manufacturers and their company rankings.
What Is a Battery Tester?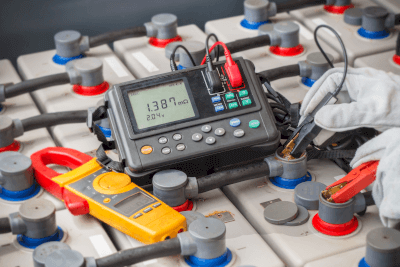 A battery tester is an instrument that can measure the internal resistance and voltage of a battery with a probe in order to diagnose the deterioration of a rechargeable battery.
Normally, as rechargeable batteries are repeatedly charged and discharged, their internal resistance increases and their performance gradually degrades. Rechargeable backup batteries may also deteriorate over time, and it is important to diagnose their performance in advance.
A battery tester can be used to diagnose battery performance immediately without shutting down the equipment. The data is stored in the internal memory and can be transferred to a PC for easy data management.
Uses of Battery Testers
Battery testers are used to diagnose the deterioration of rechargeable batteries, such as lead-acid batteries and lithium-ion batteries.
In recent years, the demand for rechargeable batteries in smartphones and electric vehicles has been increasing, and battery testers are useful for diagnosing their deterioration.
By bringing the measurement leads into contact with the electrode terminals, measurement and storage can be performed in a short period. This makes the tester useful in situations where you want to measure the condition of batteries immediately on site and manage the stored data using a PC.
Principle of Battery Testers
Resistance measurement is performed by applying a measurement signal current I and measuring the voltage V with a voltage system to measure the internal resistance R according to Ohm's law. There are two methods of resistance measurement: the 2-terminal method and the 4-terminal method. The 4-terminal method is used in battery testers because of its high measurement accuracy.
In the 2-terminal method, the current is measured by an ammeter after flowing through wiring resistors r1, R, and r2. In the 4-terminal method, the resistance of the voltmeter is sufficiently large that almost no current flows through the voltmeter and wiring resistors r3 and r4, which are connected in parallel. As a result, the voltage measured by the voltmeter is the voltage at both ends of the resistor R. Therefore, it is possible to accurately measure the internal resistance, ignoring the wiring resistors r1 to r4.
Importance of Battery Testers
Rechargeable batteries such as nickel-metal hydride batteries and lithium-ion batteries deteriorate as they are repeatedly charged and discharged, and their internal resistance increases, resulting in a decrease in battery output after a certain number of uses or duration of use.
Failure due to a short circuit in the battery's internal cells can also cause a drop in voltage and heat generation in the battery itself.
uninterruptible power supply (UPS) is a system that supplies power to PCs and other devices in the event of a power failure.
UPS is equipped with a rechargeable battery, such as a lead-acid battery, which can be activated in the event of an unexpected power failure, preventing PCs, storage, network equipment, etc. from breaking down.

The condition of the batteries must be monitored to ensure that the UPS functions normally in the event of an emergency. Battery testers can be used to diagnose battery deterioration in a short time without stopping the equipment.
*Including some distributors, etc.
*Including some distributors, etc.