This section provides an overview for lined steel pipes as well as their applications and principles. Also, please take a look at the list of 30 lined steel pipe manufacturers and their company rankings. Here are the top-ranked lined steel pipe companies as of December, 2023: 1.ANDRONACO INDUSTRIES, 2.Harrington Industrial Plastics, 3.Sunny Steel Enterprise Ltd..
What Is Lining Steel Pipe?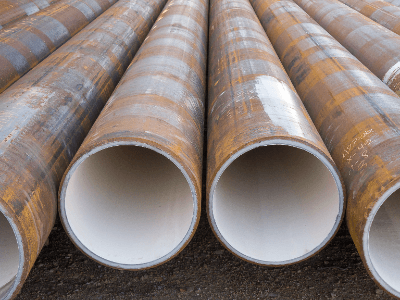 Lining steel pipe is a steel pipe coated with a corrosion-resistant material on the inside, outside, or both sides.
When used as piping, it may seem cheaper to use Teflon, hard rubber, or resin as is, but basically these resins and rubbers are inferior in strength as piping.
However, if steel is used as it is, its durability against chemicals will be significantly reduced. Therefore, lining steel pipe is used to pursue both performances. Internal linings are mainly used for lines where durability is also required, such as hydrochloric acid piping and lines through which a wide variety of liquids pass, while external linings are used for buried piping and for plants along coastlines that are prone to corrosion.
Uses of Lining Steel Pipes
Lining steel pipes are mainly used in lines where chemicals flow. Although PVC piping, etc., can be used for small-diameter piping where it is used, the piping conveyed to each section is large, and the risk of breakage or leakage is very high. Therefore, they are used in lines where not only a single chemical but also a wide variety of chemicals flow, and in lines with high temperature and high pressure.
Lining steel pipes with Teflon or vinyl chloride to compensate for their strength allows them to be used as piping under high temperatures and pressures where Teflon or vinyl chloride alone cannot be used.
Properties of Lining Steel Pipe
The properties of lining steel pipe are as follows:
1. Corrosion Resistance
Since the inner and outer surfaces are covered with corrosion-resistant materials, they are highly durable against acids, alkalis, salts, and other chemical substances. In addition to chemicals, buried water piping cannot be easily maintained if corrosion progresses, so it can be used for a long period of time.
2. High Strength
Since steel pipes are used, they can be used in high-pressure, high-temperature applications where resin piping alone cannot be used.
3. Sliding Properties
Although highly viscous substances adhere to the piping, the lining process can reduce the rate of adhesion by lowering the coefficient of friction.
4. Cleanliness
Smooth inner surface prevents stains and reduces rust and debris generation due to corrosion of metal parts.
5. Easy to Install
Wetted joints can be minimized by using special fittings. As with general threaded piping, it can be used by chamfering with the reamer supplied with the threading machine.
Structure of Lining Steel Pipe
Some are sold as standard products, but large-diameter or special products require lining processing as needed.
The lining removes dirt, oil, and moisture from the inside of metal pipes. Next, the lining liquid is mixed and injected from one side of the pipe, and the pipe outlet is sealed to prevent leakage of the lining liquid.
The piping is then tilted or rotated so that the liquid is spread over the entire pipe, and the temperature, humidity, and other conditions are adjusted, and the piping is left to cure. After curing is complete, the lining is inspected for holes and defects using special equipment, and the lining agent residue is removed as a final step. Flanged structures can be processed as a single-piece lining, but on-site installation can be facilitated by using a special threaded elbow or similar device.
Depending on the material, the adhesive or a molding furnace may be used to adhere the material to the interior. However, since each of these methods has its own advantages and disadvantages, it is necessary to fully discuss with the installation company before making a decision on the actual production of the product.
Types of Lining Steel Pipe
The types of lining steel pipes are as follows:
1. Teflon (PTFE)
It is a common lining material and is widely used for its corrosion resistance, durability, and heat resistance. There are many specialized lining companies, not limited to piping.
2. Epoxy Resin
It is often used for transporting chemicals in water treatment and chemical plants due to its strong corrosion resistance, durability, and heat resistance. With low viscosity and high fluidity, it can be applied to complex shapes and is widely used in addition to piping.
It is widely used for low-pressure transportation because of its corrosion resistance, durability, low cost, easy availability, and processability by heating.
4. Vinyl Chloride
It is inexpensive, durable, and has long been used in lining steel pipe for water supply (VLP) to prevent contamination by foreign matter due to rust, etc. It is also easy to thread and install.
5. Glass and Ceramics
It is difficult to process, expensive to manufacture, and easily cracked, but it is used for special applications due to its high temperature, corrosion resistance, and low flow resistance.
*Including some distributors, etc.
*Including some distributors, etc.