This section provides overview, applications, and principles of silicone oils. Also, please take a look at the list of 11 silicone oil manufacturers and their company rankings.
What Is Silicone Oil?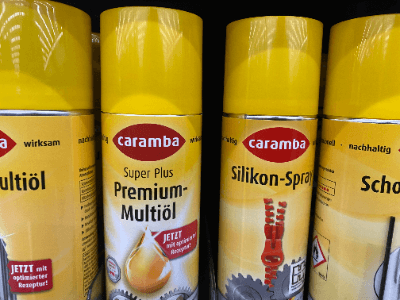 Silicon oil (silicone fluid) is a type of polymer linked by siloxane bonds, which are bonds between silicon and oxygen. It has excellent heat resistance, weather resistance, and chemical stability and is used in various applications because it does not easily change in viscosity due to temperature changes. Because it is physiologically inert and harmless to the human body, it is used in industrial applications such as machine lubricants, as well as in cosmetics, water-repellent clothing, and other products that come in contact with the human body.
In addition, silicone oil is sold in a variety of products with different chemical structures and viscosities. It is necessary to select the appropriate product according to its intended use.
Uses of Silicone Oil
Silicon oil is used in manufacturing and industrial applications. This includes electrical insulating oil, lubricating oil, and anti-vibration oil, as well as cosmetics, anti-foaming agents, and water-repellent treatments for textiles and glass. Several types of silicone oil are available with different chemical structures and viscosities, depending on the application. It is chemically stable and rarely reacts with or corrodes metals or other compounds, so it can be used for a wide range of materials.
Types of Silicon Oil
Silicon oil is a polymer linked by siloxane bonds formed by silicon and oxygen. Silicon oil is classified according to the type of atom or molecule attached to the side chain. There is dimethyl silicon oil with a methyl group (CH3) bonded to the side chain, methyl phenyl silicon oil with a benzene ring as part of the side chain, and methyl hydrogen silicon oil with hydrogen as part of the side chain. Since these oils have different chemical structures, their properties and applications are also different.
In addition to silicone oil, modified silicone oil, in which the chemical structure of a portion of straight silicone oil has been changed, is also available.
Characteristics of Silicon Oil
Siloxane bonds have very strong bonding energy and are not easily broken. Therefore, silicone oil has an excellent heat resistance and weather resistance and is also chemically extremely stable. Another characteristic is that the amount of change in viscosity due to temperature change is also small. Because of this property, silicone oil is also used in instrument oil and other oils that utilize the viscosity of oil, such as in automobiles and railroad vehicles.
Another feature of silicone oil is that its surface tension is much smaller than that of water or general synthetic oils, allowing silicone oil to spread on the surface of various substances without being repelled. Silicon oil has many other unique properties and is used in a wide variety of applications.
Safety of Silicon Oil
Silicon oil is a physiologically inert substance. It has almost no skin irritation, eye irritation, or acute toxicity and is harmless unless ingested in large quantities. However, when heated to a temperature of 150°C or higher in an air atmosphere, a small amount of harmful formaldehyde may be produced.
Silicon oil is a stable substance even at high temperatures, but some of it is a designated flammable substance (flammable liquids) under the Fire Service Law. Such substances must be managed in appropriate quantities and under appropriate storage conditions in accordance with the law.
*Including some distributors, etc.
*Including some distributors, etc.