This section provides an overview for autoclaves as well as their applications and principles. Also, please take a look at the list of 15 autoclave manufacturers and their company rankings. Here are the top-ranked autoclave companies as of September, 2023: 1.Tuttnauer, 2.Didon, 3.Beta Star Life Science Equipment.
What Is an Autoclave?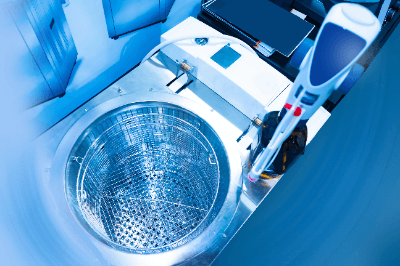 An autoclave is a device that pressurizes and heats an object by blowing saturated steam into it.
Because the high temperature and pressure of the steam can denature and kill bacterial and microbial proteins, an autoclave is used primarily as a sterilization process in molecular biology experiments. Because autoclaves use steam at high temperatures and pressures, they must be handled with great care.
As saturated steam is blown into the container, if the autoclave is used for industrial purposes on a large scale, it is subject to safety laws, and it is illegal to fail to report the use of the autoclave. The specific requirements are "a container" used at a gauge pressure of 0.1 MPa or higher with a content of 0.04 m3 or more, or an autoclave with an inner diameter of 200 mm or more for the body and a length of 1,000 mm or more.
When using an autoclave that falls under this category, pre-use and annual inspections must be conducted.
Uses of Autoclaves
Autoclaves are mainly used as sterilization equipment in molecular biology experiments. In molecular biology experiments, flasks and petri dishes used to culture Escherichia coli and other bacteria, as well as tools used to handle bacteria, must be sterilized before reuse to prevent contamination by bacteria from previous use. For this sterilization process, autoclaves capable of heating to high temperatures are used.
In addition, genetic engineering experiments involve the use of genetically modified bacteria and cells that do not exist in the world. To prevent these from leaking outside the laboratory, not only reusable tools but also unwanted bacteria, cell culture media. They are also used for solid media must not be disposed of directly in trash bins or water sinks. Autoclaves are also used before the disposal of these bacteria.
In addition, the high temperature and pressure conditions of autoclaves can be used for special chemical reaction processes (Kolbe-Schmidt reaction, metal-catalyzed hydrogenation) and for molding plastics.
Principle of Autoclaves
The structure of autoclaves is similar to that of a pressure cooker. As with a pressure cooker, care must be taken in handling the amount of water to be put inside, opening and closing of the lid, pressure relief valve, and so on. When water reaches 100°C or higher, it boils and vaporizes if the pressure is the same as atmospheric pressure.
However, if water is further heated to 100°C in an airtight container, the water hardly vaporizes and the temperature rises above 100°C. The internal pressure of the airtight container gradually rises above atmospheric pressure. A pressure cooker is a cookware that intentionally creates this condition to shorten cooking time. By placing moist food in a sealed container and placing it over heat, the water content rises to over 100°C and the food is cooked with more energy than boiling water.
Autoclaves also put moist intermediate products into a sealed container. In the case of autoclaves, the container will start on fire, but rather the internal pressure is increased by blowing in saturated steam. After the treatment process is completed, the pressure relief valve is opened to lower the internal pressure to about atmospheric pressure, and the treated product is removed. Since the energy that can be contained varies depending on the pressure of the saturated steam, the steam pressure is reduced according to the treatment process.
Other Information on Autoclaves
Heat Sterilization in Autoclaves
For contents to be autoclavable, use glass containers, glass flasks or glass petri dishes, metal containers, and other items with excellent heat resistance. If plastic, rubber, fabric, or other items with low heat resistance temperatures, there is a risk that they will melt. Be sure to check the heat resistance temperature of the contents beforehand. Containers made of plastic or other materials must be sterilized by a method other than autoclaves.
When sterilizing glass flasks or glass petri dishes used for culturing bacteria, etc., the autoclaves should be heated to 135-145°C for 3-5 hours, 160-170°C for 2-4 hours, 170-180°C for 1 hour, and 180-200°C for 30 minutes. Since water in autoclaves is subjected to high temperature and pressure during use, the amount of water and the strength of the lid closure must be thoroughly checked before operation to avoid accidents.
*Including some distributors, etc.
*Including some distributors, etc.