This section provides an overview for pliers as well as their applications and principles. Also, please take a look at the list of 14 plier manufacturers and their company rankings.
What Is a Plier?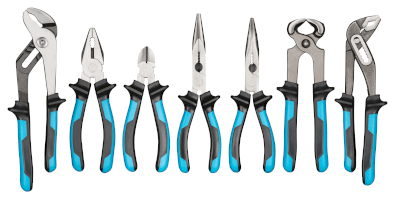 A plier is a type of tool. They are mainly used to get a firm grip on metal products.
Pliers come in more than 100 different shapes and sizes, depending on their application. Water pump pliers, combination pliers, and cutting pliers are commonly used.
When the word "pliers" is used, combination pliers are the ones that come to mind. They are easy to grip with one hand and are highly versatile tools.
Water pump pliers are also called Anguilla. Anguilla is a trade name, but it is more commonly used in production.
Cutting pliers are used for electrical work.
Uses of Pliers
Pliers are used at production sites.
For example, they are used for turning screws. Generally, screws have a slot cut in the head to insert a screwdriver. However, this slot may be filled in due to corrosion or rust. In addition, a screwdriver larger than the slot diameter may be used to open up the slot. Alternatively, pliers can be used to grip and turn such screws because they can grip more firmly and apply more force than human force.
Pliers are used in a wide variety of applications, depending on the type of pliers and the situation in which they are used.
Principle of Pliers
Different types of pliers have some things in common and some things that are different.
In general, all types of pliers are made of steel. This is because they need to be strong enough to grip and bend metal products. They are also designed to be handled manually. Electric pliers are very rare.
Another common feature is that the moving parts are small in relation to the handle. This is to obtain a strong torque by the principle of leverage. Also, the end of the movable part is grooved to apply strong pressure when gripped.
The difference is that cutting pliers, as the name implies, have a blade. In addition to being used as pliers, they can also be used to cut wires and strip wire sheathing.
With water pump pliers, the movable part is at an angle to the handle. Also, the width of the gripping area can be changed by shifting the fulcrum. They are used for water pipe work, etc., because they can firmly grip screwed-in pipes. Among pliers, this type is used for gripping large metal products.
*Including some distributors, etc.
*Including some distributors, etc.