This section provides an overview for surveillance cameras as well as their applications and principles. Also, please take a look at the list of 22 surveillance camera manufacturers and their company rankings. Here are the top-ranked surveillance camera companies as of September, 2023: 1.Driver Technology, LLC, 2.DigiTek Security, 3.Industrial Video & Control Co..
What Is a Surveillance Camera?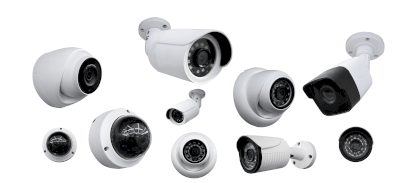 A surveillance camera is a camera that monitors on behalf of a person in an area that a surveillance officer does not constantly monitor. It is a type of fixed-point camera and industrial equipment that is easily familiar as it is used regularly in shopping malls and museums.
Since it is sufficient to know what happened on the spot, the sampling rate is not very high. In some cases, images are stored in black and white to compress the amount of information.
In many cases, the images from surveillance cameras can be viewed at any time in a control room or other location.
Uses of Surveillance Cameras
Surveillance cameras are widely used in the industry.
A familiar example is surveillance cameras used in retail locations. They are used in stores that handle valuable products, such as shopping malls, museums, and jewelry stores. In recent years, they are also being used in convenience stores.
For industrial use, they are used in substations and power plants where there is no constant patrol staff. In many large process factories, surveillance cameras are also installed in the control room to monitor the movement of equipment.
Principle of Surveillance Camera
Surveillance cameras are divided into three main parts: the camera part, the transmission wiring, and the recording device.
The camera part was mainly a film projection system in the mid-1900s. In this system, light is focused by a lens and shone on a light-sensitive film to leave an impression. In this case, the system was not easy to use because it required a large amount of film to record the image and was limited to monitoring high-value products. In recent years, images can be stored as electronic data, eliminating the need for large quantities of film, and the system has become widely used.
Coaxial wiring was generally used for the transmission wiring portion. Recently, coaxial wiring is still used when the transmission distance is long. In recent years, however, PoE-type LAN transmission, which can also supply power to the camera, has become more common. It is characterized by easy monitoring and recording in the control room. However, since the transmission distance is limited to 100 m, it is used for centralized monitoring in a control room.
Hard disks and SSDs are used for large-capacity storage, while SD cards and USB flash memories are used for small-capacity storage.
*Including some distributors, etc.
*Including some distributors, etc.