This section provides overview, applications, and principles of ccd cameras. Also, please take a look at the list of 17 ccd camera manufacturers and their company rankings.
What Is a CCD Camera?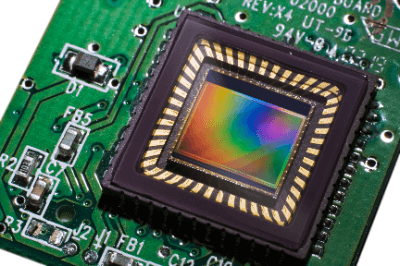 A CCD camera is a camera that uses a CCD as its image sensor. CCD is an acronym for "Charge Coupled Device."
In recent years, technological innovations have replaced them with CMOS sensors, which are superior in terms of performance and cost. However, CCD cameras are still in use in some research applications, and some hobbyists prefer them because they tend to produce stronger contrast in photographs than CMOS.
Uses of CCD Cameras
CCD sensors are used in some compact digital cameras, but the development of CCD sensors for general use is almost complete. It is highly likely that they will be replaced by CMOS sensors in the future.
However, they are often useful in research applications. For example, they are used in combination with microscopes to image biomolecules. The CCD is characterized by its high sensitivity.
CCDs are characterized by their high sensitivity. Furthermore, the detection sensitivity can be increased up to 1000 times by amplifying the detection signal with an electron multiplying (EM) CCD.
Recent CMOS sensors can also detect single-molecule fluorescence by improving quantum yield. However, when single molecule fluorescence is weak, an EMCCD camera that can amplify the signal is more advantageous.
Principle of CCD Cameras
A CCD camera uses a lens or other optical system to form an image on a CCD sensor consisting of an array of photodiodes (CCD elements).
When a photon strikes a light-receiving CCD element, the photoelectric effect generates electrons, and the CCD element stores an electric charge. The charge accumulated in each is transferred to the CCD, and the current is amplified. The amplified current is calculated by the CCD camera's control board and converted into image data.
In EMCCD, a voltage is applied to the transferred charge before it is sent to the amplifier to double the number of electrons. This is done using a phenomenon called collisional ionization. The electron-doubling EMCCD can also detect single photons and can measure the number of photons.
However, charge transfer does not take place until enough charge is accumulated in all the CCDs in a row. This is the rate-limiting factor in the transfer rate.
Types of CCD Cameras
1. CCD Element 
Full-Frame: Full-frame CCD's are the most standard CCD's and have the highest sensitivity and dynamic range for physical and chemical measurements. A light-shielding shutter is required to prevent light from shining on the element during readout.
Frame Transfer: The frame transfer type has two types of CCDs, one for light receiving and the other for image storage. The received image is transferred to the CCD for temporary storage, and the stored charge is read out during the next exposure. While a shutter is not required, a CCD with twice the area is needed.
Interline: The interline type CCD is a type in which the light receiving and storing sections are arranged in a single element. This type of CCD element is used in video cameras. A shutter is not required, but the aperture is smaller than that of a full frame.
2. Applications of CCD Cameras (by type)
Spectroscopic Cameras: This is a camera that can obtain the spectrum point of an image. It can measure spectral characteristics within the shooting range at once. Applications include diagnosis of food freshness, detection of foreign substances, and in the industrial field, management of product color.
Camera for Biological Observation: Cooled CCD cameras are widely used for the purpose of observing microscopic movements of living organisms and images of extremely low light by attaching them to microscopes. The key factors are high sensitivity, high resolution, and high speed.
X-Ray Cameras: X-ray CCD cameras are becoming widely used in the soft X-ray to hard X-ray range, and CCD cameras are superior to other detectors because of their high sensitivity and wide dynamic range.
High-Speed Cameras: Cameras capable of 100 frames per second or more are called high-speed cameras. They are increasingly used in industrial applications such as automobile crash tests and factory manufacturing process control.
Other Information on CDD Cameras
Difference between C-MOS Cameras
A CCD sensor extracts charge from electrodes to the outside like a bucket relay, whereas a C-MOS sensor has a photodiode in each pixel and reads signals directly from the pixel while switching at high speed with a semiconductor switch. The difference is as follows.
CCD = power consumption x/image quality◎/price x
C-MOS = power consumption ◎/image quality◎/price◎
Thus, CCD is superior in terms of image quality, while C-MOS is less expensive.
*Including some distributors, etc.
*Including some distributors, etc.