This section provides an overview for thermal cameras as well as their applications and principles. Also, please take a look at the list of 14 thermal camera manufacturers and their company rankings. Here are the top-ranked thermal camera companies as of September, 2023: 1.PerfectPrime, 2.Teslong Technology, 3.Infrared Cameras Inc..
What Is a Thermal Camera?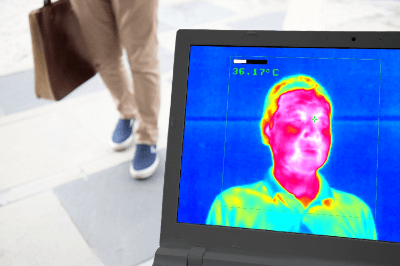 A Thermal Camera is a camera that detects the surface temperature of an object and displays it as an image. The image captured by a thermal camera is called thermography.
Thermal camera images are different from images taken with the human eye or with a normal camera in that the areas of the image with the highest temperatures are displayed in red and the areas with the lowest temperatures are displayed in blue. From this image, it is possible to determine the surface temperature, which cannot be determined just by looking at the image.
Thermal cameras can also be used in cases where it is difficult to touch the object being measured, since they can detect temperatures without making contact with the object.
Uses of Thermal Cameras
Thermal cameras are used in a variety of situations, such as:
Measurement of human body temperature
Machine monitoring in factories and electrical facilities
Thermal cameras are widely used to measure human body temperatures because they are non-contact and can quickly and easily determine a person's body temperature. Also, since measurement is non-contact, temperature changes during operation of machinery in factories and electrical facilities can be measured without danger to the person being measured and without affecting the object being measured by temperature measurement.
Furthermore, thermal cameras are also used for purposes other than temperature measurement. Using their ability to sense temperature, thermal cameras can detect the presence of objects with different temperatures in an environment where the temperature is somewhat constant, such as at sea, even if the objects are so present that they cannot be seen visually. Thermal cameras can detect objects even when visibility is poor at night or in the rain because they detect temperature.
Thermal Camera Principle
Thermal cameras detect the infrared radiation emitted by an object, and measure and display the temperature of the object by judging the intensity of the infrared radiation. All objects above absolute zero emit infrared radiation, and since this energy is known to be proportional to the magnitude of the absolute temperature, it is possible to measure temperature from infrared radiation.
Thermal cameras receive the infrared light emitted from the object with an internal detector, scan it, and then process the A/D-converted and temperature-converted data into an image that is displayed as a thermographic image in red, blue, or other colors that can be easily seen by the human eye.
Since human visibility depends on the state of visible light, visibility is affected by weather conditions and time of day, but thermal camera detects infrared light emitted by the object and can display thermographic images without problems even if the state of visible light in the environment, for example, visibility is poor for humans.
Thermocouples and thermometers commonly used in the home detect temperature by contact using heat conduction from the object.
Thermal cameras, on the other hand, utilize thermal radiation from the object and can measure temperatures in a non-contact manner without directly touching the object, which is the main difference between thermal cameras and thermography.
Types of Thermal Cameras
Thermal cameras can be classified into handy type and stationary type, and on-press type and cloud type based on the data storage method.
1. Handheld and Stationary Types
Thermal cameras used to measure human body temperature can be divided into two main types: handheld and stationary.
Handheld thermal cameras are easy to carry and are used in stores, reception areas, commercial facilities, etc., to reliably measure the body temperature of a small number of people.
Stationary thermal cameras are suitable for use in places where a large number of people need to be measured at the same time or where constant temperature measurement is required. They are also available in camera and dome types, which are suitable for measuring a wide range of temperatures. 
2. On-Premises Type and Cloud Computing Type
Thermal cameras can be divided into on-premise type and cloud computing type, depending on where the measurement data is stored.
On-premise type systems use their own servers. This has the advantages of being able to use existing company facilities and having a high degree of freedom in linking with the company's own systems. On the other hand, the disadvantage is that operation and maintenance costs are high.
Cloud computing is a system that uses cloud servers. Cloud computing has the advantages of easy data sharing among multiple locations and low operation and maintenance costs. On the other hand, some services provide a complete set of thermal cameras, applications, and a secure connection environment, although this may cause security issues in some environments.
Other Information on Thermal Cameras
1. Measuring Body Temperature With a Thermal Camera
Thermal cameras differ from regular thermometers in that they measure the surface temperature of the human skin. The surface temperature is greatly affected by the season and the external environment. Therefore, if the temperature is measured immediately after entering a room from outside in winter, the surface temperature will be detected as lower, and if the temperature is measured immediately after exercising in summer, the surface temperature will be detected as higher.
Therefore, it is important to take into account the differences in the environment before and after the measurement in order to obtain a highly accurate body temperature measurement using a thermal camera.
One method for highly accurate measurement is to use a black body. This black body is a device used to calibrate body temperature. The temperature of the black body and the intensity of the infrared radiation emitted by the black body are used as a reference for temperature compensation in the thermal camera. This allows us to minimize the error of the thermal camera itself. 
2. Thermal Camera in the Fight Against Coronavirus Infections
Daily temperature checks are extremely important to prevent infectious diseases. Thermal cameras are already being used in a variety of locations due to the following advantages:
Measure a wide range of temperature changes in real time without touching the object to be measured.
Capture far-infrared radiation emitted by objects, allowing detection even in darkness
Capable of quickly capturing and detecting moving objects
Detects even distant objects
Far-infrared radiation is transparent, so it can detect objects even if they are blocking your view.
When considering the use of a thermal camera, there are different factors to consider depending on where the camera will be used and what is to be inspected. For example, in areas where a large number of people come and go, an AI-equipped thermal camera will be effective.
If abnormal temperatures are detected, an alert will be issued. These cameras are used at airports, hospitals, large commercial facilities, etc., where large numbers of people come and go and it is difficult to inspect each person in a timely manner.
*Including some distributors, etc.
*Including some distributors, etc.