This section provides an overview for abrasion testers as well as their applications and principles. Also, please take a look at the list of 8 abrasion tester manufacturers and their company rankings.
What Is an Abrasion Tester?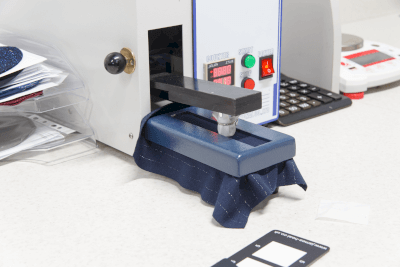 An abrasion tester is a type of material testing machine that presses a mating material against a test specimen and moves it to measure its wear characteristics.
While material tests such as tensile and bending tests determine physical and mechanical properties depending on the magnitude of the applied overload, in abrasion testing, different properties emerge depending on the shape of the mating material used to apply frictional force to the test specimen, the way the load is applied, and the test environment.
For this reason, there are various types of abrasion tester, such as those that reciprocate or rotate the mating material in a straight line. In addition, there are devices that can set the environment close to the actual usage conditions, such as wet/dry conditions and temperature.
Uses of Abrasion Testers
Abrasion testing is an important test to evaluate the resistance to wear caused by friction for products and equipment that are subject to friction during use.
Therefore, abrasion testers are used for material testing in a very wide variety of fields, including industrial equipment, construction equipment, medical equipment, automobiles, overhead wires, rails, concrete, and textiles.
Abrasion testers are used for a variety of purposes, including not only testing to evaluate whether a part or product meets required wear resistance, but also to select materials for parts, plating, lubricants, and more.
Features of Abrasion Testers
Wear is a phenomenon in which a part of a friction surface deteriorates due to friction caused by objects rubbing against each other.
Abrasion testers reproduce the friction phenomenon according to each situation to clarify the mechanism and characteristics of wear and to understand the effects of wear when it occurs.
Since wear testing is highly dependent on test methods, there are not many standardized test methods compared to the wide range of fields requiring friction testing. In addition, abrasion testers are characterized by the fact that there are more types of abrasion testers than other material testers because abrasion tests are usually conducted under the conditions in which they will actually be used.
The main types of abrasion tests performed by abrasion testers are listed below. Characteristics to be evaluated include static friction coefficient, dynamic friction coefficient, change in friction coefficient over time, amount of wear, and comparison of wear resistance when materials are changed.
Pin-on-disk test

: A wear test in which a pin is pressed against the surface of a rotating flat specimen (disk).

Ball-on-disk test

: A ball specimen is placed in contact with the surface of a rotating disk specimen. Since the flat surface and the ball come into contact with each other, the friction area is small and the advantage is that stable contact can be maintained.

Ring-on-disk test

: A wear test using a combination of a ring-shaped specimen and a disk specimen.

Pin-on-plate test

: A pin is pressed against a plate specimen and the plate slides back and forth in a horizontal direction.

Ball-on-plate test

: A ball specimen is pressed against a plate specimen and the plate is reciprocated in a horizontal direction.
There are various types of material testing machines, ranging from those that can perform only one of these tests to those that can perform multiple tests.
*Including some distributors, etc.
*Including some distributors, etc.