This section provides an overview for touchscreen gloves as well as their applications and principles. Also, please take a look at the list of 18 touchscreen glove manufacturers and their company rankings. Here are the top-ranked touchscreen glove companies as of December, 2023: 1.Autodesk Inc., 2.RefrigiWear, 3.Recreational Equipment, Inc..
What Is a Touchscreen Glove?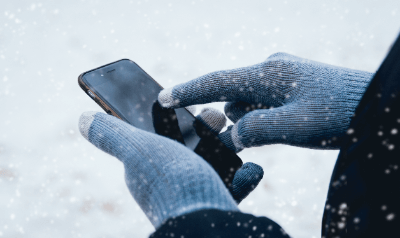 Touchscreen Gloves are gloves that allow you to operate the touchscreen while wearing them.
When wearing normal gloves, the touch operation may not respond even if the fingertips touch the screen. Touchscreen Gloves, on the other hand, are made of conductive material, allowing the wearer to accurately operate the screen of a smartphone or tablet while wearing them.
There are two main types of touch panels for smartphones and other devices: pressure-sensitive and capacitive. Wearing normal gloves or military gloves that do not support touch panels does not allow electric current to pass through, making it impossible to operate a capacitive touch panel.
As a solution to this problem, Touchscreen Gloves are made of conductive thread. This device makes it possible to operate a capacitive type touch panel while wearing gloves.
Applications of Touchscreen Gloves
Touchscreen Gloves are useful in a variety of applications. Some of the major uses are listed below.
1. Smartphones
Wearing regular gloves in cold weather makes it difficult to operate smartphones by touch due to reduced sensitivity of the fingertips. Touchscreen Gloves are made of conductive material, so you can accurately operate your smartphone even while wearing gloves. This is useful when you want to send and receive messages or browse the web on the go.
2. Outdoor Activities
Even during outdoor activities such as mountain climbing and hiking, you may need to operate your smartphone. Touchscreen Gloves allow you to browse map apps and trail guides without having to take off your gloves when exposed to the cold and wind.
3. Business
In business situations, smartphones may be used during meetings and business negotiations. Touchscreen Gloves enable efficient communication because they allow users to manipulate presentation materials on their smartphones without having to take off their gloves.
4. Manufacturing Industry
Touch panels may be used in factories for production control and monitoring. When operating production line progress and equipment via touchscreen, Touchscreen Gloves can be worn to maintain cleanliness.
They are also used in factory processes that require the wearing of gloves, such as working in cold areas such as refrigerated rooms. Some Touchscreen Gloves can be used in clean rooms, and these products can also be used in the assembly process of electronic components.
Principle of Touchscreen Gloves
The principle of Touchscreen Gloves is to use conductive materials. This allows electric current to be transmitted to the touch screen even while the gloves are worn, thus enabling operation to be detected. There are two types of touchscreens: capacitive and inductive.
1. Capacitive Type
A capacitive touch panel consists of a thin conductive layer on the screen, which is covered with a non-conductive layer such as protective glass or plastic. This structure makes it possible to detect the position of a finger and the position of a touch if conductive gloves are worn. 
2. Electrostatic Induction
In an electrostatic induction touch panel, conductive wires are placed on the screen and covered with an insulating layer. This structure creates an electrostatic field near the finger if the gloves are made of conductive material, and the position of the finger can be detected.
How to Select Touchscreen Gloves
There are several factors to consider when choosing Touchscreen Gloves.
1. Material
The material of Touchscreen Gloves affects the conductivity and comfort of the fingers. Typically, conductive fibers and conductive inks are used.
These materials are placed on the fingertips and finger abdomen of the gloves and allow electric current to pass through them upon contact with the touchscreen.
2. Coding Materials
Touchscreen Gloves may be designed to accommodate different types of touchscreens. Manufacturers choose coding materials for compatibility with devices. Many products are coated with nitrile rubber or polyurethane.
3. Size
Size is a very important factor. If the gloves are not the correct size, the fingertips and palms may be misaligned, resulting in reduced operability. By selecting the proper size, the gloves will fit snugly in the hand and allow for unobstructed finger movement.
4. Non-slip
Some Touchscreen Gloves may have non-slip material on the fingertips and palms. This improves hand stability when holding slippery devices and prevents them from falling or mishandling. The design and material of the non-slip material is also a factor to consider when choosing.
*Including some distributors, etc.
*Including some distributors, etc.