This section provides an overview for vertical conveyors as well as their applications and principles. Also, please take a look at the list of 45 vertical conveyor manufacturers and their company rankings.
What Is a Vertical Conveyor?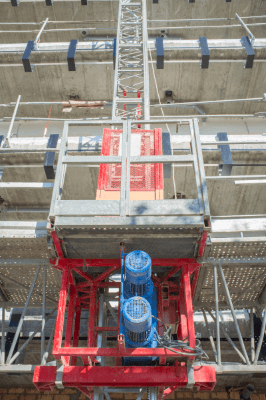 Vertical conveyors are conveying equipment used to move large objects or luggage vertically to the desired level.
Vertical transfer machines are designed to transport only luggage in a vertical direction, so they are not designed to carry people, nor can they transport lifts.
Vertical conveyors generally have a higher transport capacity than cargo elevators, and since they do not fall under the category of so-called "elevators" under the Building Standards Law, they do not require an application for building certification or a permit from the Labor Standards Bureau, which are necessary when installing an elevator, making them easier to install.
Uses of Vertical Conveyors
Vertical conveyors are used in factories, distribution centers, and warehouses where large loads must be transported.
Vertical transporters are ideal for improving site efficiency because they can transport carts and pallets at the same time, and they can also transport large quantities of goods and cargo at the same time.
While it is possible to install elevators and other elevators for vertical conveyors transport of goods at such sites, vertical conveyors have the advantage of costing about half the cost of installing an elevator when installation and procedures are taken into account.
Principles of Vertical Conveyors
The structure of vertical conveyors is similar to that of an elevator, but the vertical conveyors are treated as a "shelf," so its structure is relatively simple.
The carriage (vertical conveyors cage or platform) and weights are installed in the frame of the main body, and the carriage is raised and lowered by a suspension chain or metal wire using a drive unit.
There are also conveyor-type vertical conveyors in which the entrance to the vertical conveyor bed is connected to a conveyor.
Conveyor-type vertical transporters are very efficient and safe because they can continuously raise and lower vertical loads (e.g., on a manufacturing plant line) by means of a conveyor.
As mentioned above, the advantage of vertical conveyors is that they are less expensive to install than elevators, etc. However, it should be noted that the size and weight of the objects to be conveyed are strictly regulated by the type of conveyor and each manufacturer, so items that fall outside of these regulations cannot be conveyed.
*Including some distributors, etc.
*Including some distributors, etc.