This section provides an overview for magnetic stirrers as well as their applications and principles. Also, please take a look at the list of 20 magnetic stirrer manufacturers and their company rankings. Here are the top-ranked magnetic stirrer companies as of December, 2023: 1.Quark Glass, 2.PHOENIX Instrument, 3.Eneflux-Armtek Magnetics, Inc..
What Is a Magnetic Stirrer?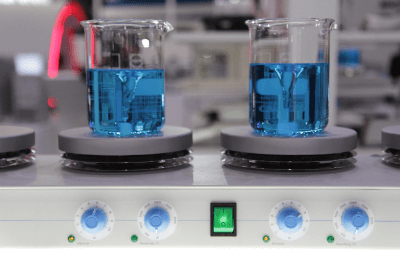 A magnetic stirrer is a device used to stir a solution and generally refers to a magnetic stirrer that rotates a stirrer in a solution on the device by changing the magnetic force of the device itself. There are many different types of magnetic stirrers. The appropriate device must be selected based on the shape and size of the container used in the experiment. For example, a test tube, flask, or beaker, the viscosity of the solution to be stirred, and the experimental conditions, such as whether or not the solution is heated.
In addition to the magnetic stirrer itself, there are various shapes and materials for the stirrer. When selecting a stirrer, it is necessary to choose an appropriate stirrer from the viewpoint of the presence or absence of precipitates in the solution—the need to suppress contamination during stirring, the solution's viscosity, and the container's shape.
Uses of Magnetic Stirrers
Magnetic stirrers are used to stir various solutions of water or organic solvents. There are two types of stirrers: Magnetic stirrers, which use a stirrer, and agitators, which use stirring blades connected to the main body of the device. This article will focus on magnetic stirrers.
Magnetic stirrers can be used for stirring solutions in test tubes, beakers, flasks, and various other types of equipment by changing the type of equipment body and stirrer, and are used in a wide range of experimental work, mainly in chemistry and biology. Magnetic stirrers that can stir multiple samples in a single device are also available, as well as stirrers integrated with a hot plate that can be heated during stirring.
Principle of Magnetic Stirrers
A typical magnetic stirrer contains a motor and magnets in the main body of the device, and the magnets rotate the stirrer placed on top of the device. Magnetic stirrers usually use ferrite magnets, but they may also use neodymium magnets, which have high magnetic force, or samarium-cobalt magnets, which do not lose their magnetic force when heated.
Instead of a magnet and motor, an electromagnetic stirrer (magnetic stirrer) uses the magnetic field generated by electricity flowing through a coil. Magnetic stirrers have features such as no performance degradation due to deterioration of the internal magnet and a thin body.
Types of Magnetic Stirrers and Agitators
Various magnetic stirrers are available, differing in capacity, number of revolutions, size, number of stirring points, and with or without a hot plate. You need to select the appropriate device from the viewpoint of the size and shape of the container to be used in your experiment, the viscosity of the solution (whether it is easy to stir or not), whether heating is required or not, cost, and so on.
In addition to magnetic stirrers, various shapes and sizes are also available. Typical examples include:
The standard cylinder type.

The rugby ball type (less susceptible to rotation speed and vessel shape).

The cross-shaped stirrer for dispersing sediments.
Although chemical-resistant PTFE resin is generally used for the agitator exterior, contamination of the sample (contamination) may occur due to abrasion during rotation. To prevent contamination, use stirrers made of PVDF or PEEK.
*Including some distributors, etc.
*Including some distributors, etc.