This section provides overview, applications, and principles of universal counters. Also, please take a look at the list of 3 universal counter manufacturers and their company rankings.
What Is a Universal Counter?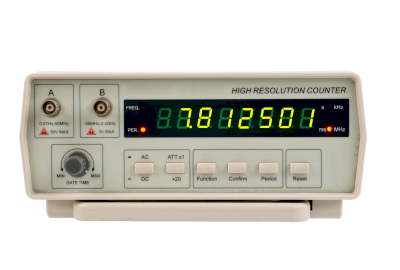 A universal counter is a counter for electrical signals with several additional functions in addition to a frequency counter's period and frequency measurement functions.
In addition to measuring the pulse width and phase of a signal, it can also measure the period relative to the pulse width and signals' rise and fall times. It can also measure the time difference between two input signals and the frequency ratio, making it a handy measuring instrument.
Some universal counters can analyze data stored for a certain period of time and display the results.
Uses of Universal Counters
In product development, circuits are first designed to meet the required product specifications, and they are also effective measuring instruments when checking the operation of boards created based on the results of that design and in technical education.
It is also useful for checking whether the expected frequency and other parameter values have been obtained on the production and inspection lines of products.
In the past, universal counters were not inexpensive because they had to be configured with dedicated logic circuits, but recently, due to the low cost and high functionality of one-chip microcomputers and peripheral ICs, considerably low-cost products are now available.
Principle of Universal Counters
Frequency is a numerical value that indicates how many signals exist per unit of time in a repetitive signal. The universal counter is configured as follows to measure this frequency.
First, waveform shaping is performed to shape the input signal under test into a clean signal for accurate measurement (signal A).
On the other hand, a gate signal is created to carry out only a specific measurement period of signal A. For this purpose, a gate signal of a specific frequency is input. (signal B)
The above is done by taking the AND of the input signals A and B and counting the outputs of the AND. By counting the number of A signals present in a specific frequency period, the frequency of signal A can be calculated. The result is displayed on a dedicated LCD or on a universal counter.
In general, universal counters often simplify the circuit configuration by having the built-in microcontroller set the frequency of gate signal B and the counting of the gated signals.
*Including some distributors, etc.
*Including some distributors, etc.