This section provides overview, applications, and principles of hydrogel. Also, please take a look at the list of 12 hydrogel manufacturers and their company rankings.
What Is Hydrogel?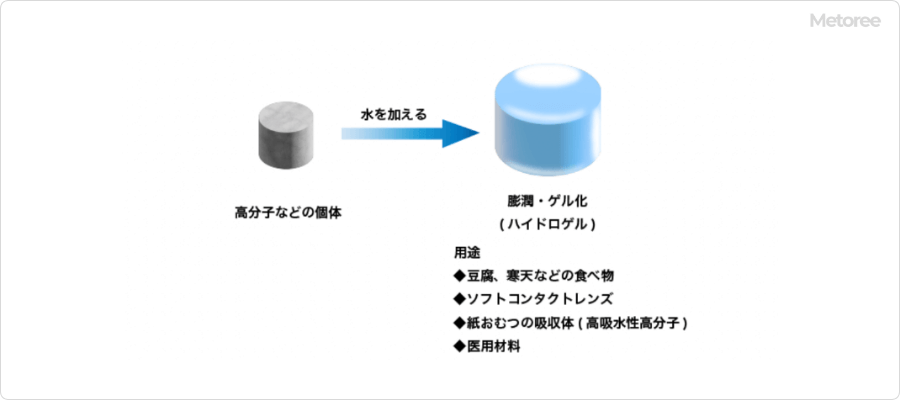 Hydrogel is a generic term for a solid such as a polymer that absorbs water and swells to form a non-flowable gel. For example, when polymer chains such as polysaccharides and gelatin are cross-linked to form a three-dimensional network structure, the network structure contains a large amount of water and becomes a swollen body that cannot be dissolved in water. Examples of hydrogels include konjac, agar, and jelly.
Application of Hydrogel
Hydrogel is found in foods such as tofu and agar and is also used in soft contact lenses and diaper absorbents (super absorbent polymer). Because its composition is like that of biological soft tissue, its use as a medical material has been explored in recent years, but the loss of properties due to the absorption of water in the body remains an issue to be resolved.
Examples include the use of artificial cartilage and artificial intervertebral discs as a material that releases drugs slowly and as a scaffold material for cells in the field of regenerative medicine. After culturing cells on hydrogel, only the gel is dissolved by a reducing agent to create cell sheets with cells attached to each other, which can then be applied to damaged areas for treatment.
Principles and Properties of Hydrogel
1. Physical Gel and Chemical Cel
Hydrogels are classified into physical gels and chemical gels according to the cross-linking method.
Physical Gel: Cross-linked by hydrogen bonding, ionic bonding, coordination bonding, etc.
Chemical Gels: Cross-linked by covalent bonding
Items that undergo a reversible sol-gel transition when heated, such as agar and gelatin, are physical gels. Chemically stable items such as superabsorbent polymers used in disposable diapers and soft contact lenses are chemical gels.
2. Example of Gelation of Sodium Alginate
One well-known example is alginic acid, a natural polymer. The sodium salt of alginate is water soluble, but when a multivalent cation such as Ca2+ is added, ionic cross-linking occurs instantly. In this process, the solvent water is incorporated into the mesh structure of the cross-links, resulting in gelation (hydrogelation).
Types of Hydrogels
HEMA (hydroxyethyl methacrylate) has been used in conventional soft contact lenses because it becomes soft when moistened. Since increasing the water content increases oxygen permeability, attempts have been made to increase the water content and reduce the thickness of the lens. However, it has been said that there are limits to technological development because a higher water content makes it easier for water to evaporate, making the eyes drier during wear.
Silicone hydrogel has been attracting attention in recent years as a new material that solves the problem of HEMA. Silicone hydrogel is a material that exhibits high oxygen permeability despite its low water content. Because oxygen passes directly through the contact lens, it can deliver a large amount of oxygen without depending on the amount of water in the lens, which has the advantage of reducing the burden on the eyes.
It is expected to reduce the decrease in corneal endothelial cells in the cornea, which has been a problem with contact lenses in the past. Another advantage is that the low water content prevents the eyes from drying out while wearing the lenses. Furthermore, silicone hydrogel material is less likely to be contaminated by proteins contained in tears.
However, because it is highly lipophilic, it is difficult to remove once oil gets on it. Therefore, care must be taken to prevent oil from adhering to eye makeup. The challenge is that it is a harder material than HEMA due to its low water content, and technological development is underway to improve its wearing comfort.
*Including some distributors, etc.
*Including some distributors, etc.