This section provides overview, applications, and principles of silica. Also, please take a look at the list of 33 silica manufacturers and their company rankings.
What Is Silica?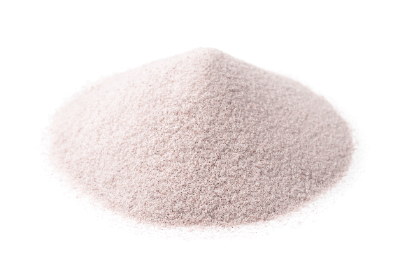 Silica is the generic name for silicon dioxide, an oxide of silicon. Its chemical formula is SiO2, and its crystal structure is tetrahedral, consisting of silicon bonded to four oxygen atoms.
This tetrahedral structure is combined to form various arrangements, resulting in various types of silica, including crystalline and amorphous.
Silica is abundant in the earth's crust and occurs naturally as silica crystals in crystal forms such as quartz (crystal), tridymite, and cristobalite. Silica is used in laboratory equipment, optical components, and as a raw material for silica gel, a desiccant.
Uses of Silica
Silica is a colorless, transparent solid characterized by a very high melting point. It also has excellent chemical resistance and reacts only with some acids and alkalis.
Because of its heat resistance and chemical resistance, silica is used in chemistry laboratory equipment and spectroscopic analyzers. It is also used in the production of silica gel, a desiccant. Highly transparent ones are processed into optical components such as lenses and prisms.
Quartz, one of the silica crystals, is known for its use in ornaments and as quartz crystals.
Principle of Silica
Silicon is an element with atomic number 14, and its oxide, silicon dioxide, is called silica. Silicon dioxide can be crystalline or amorphous, and the name silica is used specifically to refer to them collectively.
Crystalline silica is known as crystalline polymorphs, such as quartz, cristobalite, and tridymite. On the other hand, amorphous silica is a generic term for materials containing non-crystalline silicon dioxides, such as silica gel and diatomaceous earth.
The chemical formula of silicon dioxide is SiO2, where one silicon atom is covalently bonded to four oxygen atoms. These form the SiO4 tetrahedral structure, with each oxygen atom belonging to two SiO4 tetrahedral structures. The crystalline polymorphism in crystalline silica, such as quartz, cristobalite, and tridymite, is due to differences in the arrangement of these SiO4 tetrahedral structures.
Silica itself has low reactivity with other substances but reacts with some acids and alkalis. For example, when reacted with hydrofluoric acid, hexafluorosilicic acid is formed, and when reacted with sodium hydroxide, sodium silicate is formed.
Silica in Foods
Silica particles can absorb impurities and are used as a filter aid in food production. For example, it filters beer, other alcoholic beverages, and soft drinks. According to the Food and Drug Administration (FDA) classification, silica belongs to the designated additives. Designated additives are materials approved for use by the FDA. In addition, talc, kaolin, and zeolite, which are silicates similar to silica, are classified as existing additives. Existing additives are widely used materials and have long food experience, in addition to the designated additives. These are permitted to be used, sold, etc., on an exceptional basis.
Experiments with rats have reported that long-term oral intake of silica powder did not cause any abnormalities in appearance or induce tumors in internal organs. Accidents involving accidental ingestion of desiccant silica gel have also not caused any serious symptoms.
On the other hand, blue silica gel contains substances other than silica that can affect the human body, and it has been reported that symptoms such as vomiting and diarrhea may occur if ingested orally.
Toxicity of Silica
Silica is known to have little effect on the human body when ingested orally, but serious symptoms may occur when airborne silica particles are inhaled through the nose or mouth. In particular, inhalation of crystalline silica such as quartz has been reported to cause silicosis, while inhalation of fibrous silica such as asbestos has been reported to cause asbestos lung.
The symptoms of silicosis and asbestos lung are collectively referred to as pneumoconiosis. Symptoms of pneumoconiosis tend to be subjective at first, but symptoms such as cough, phlegm, and even shortness of breath or difficulty breathing may appear over time. Once a person has pneumoconiosis, there is no cure, and the lungs never return to normal.
In actual cases, acute pneumoconiosis caused by inhalation of silica particulates has been reported in factories that handle high-purity crystalline silica particulates. To prevent such accidents, handling should be done with protective equipment such as dust masks.
*Including some distributors, etc.
*Including some distributors, etc.