What Is a Board-to-Board Connector?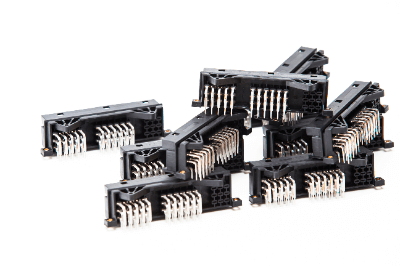 Board-to-board connectors are used for the high-density mounting of printed circuit boards.
Among these connectors, those that are designed to allow the connected connectors to move in three directions (pitch, row-to-row, and mating), or to move in either direction to suppress the effects of mating misalignment, are called floating connectors. These connectors are designed to be movable in the x-y-z three-dimensional direction by combining the socket and plug, making them less susceptible to pry (shock) and misalignment.
Applications of Board-to-Board Connectors
Board-to-board connectors are used to meet the recent trend toward the miniaturization of equipment. These connectors make it possible to connect boards directly to each other. Because of this advantage, board-to-board connectors are used in various fields, such as computers, portable information devices, digital TVs, automobiles, and industrial machinery and infrastructure. As electronic devices have become increasingly sophisticated in recent years, the demand for advanced, high-precision board-to-board connectors has also increased.
Principle of Board-to-Board Connectors
Board-to-board connectors are used to connect boards. Typically, cables or other means are used to connect boards. However, when boards are connected with cables in this way, the space occupied by the board in the equipment becomes large, which is an obstacle when miniaturizing the product. Therefore, this connector can be used when circuits do not fit on a single board, when boards of different sizes are mounted, or when boards need to be joined together due to the miniaturization of the product.
When joining boards, it is necessary to make sure that the number of pins and other parts of the boards matches each other. Connectors are only for joining boards together and do not have a large mechanical support force for boards. Therefore, a separate mechanism to support the board with screws or other means is required. Although this connector facilitates board maintenance, it must be handled carefully to prevent excessive force from being applied to the board and damaging it when the connector is removed.
*Including some distributors, etc.
*Including some distributors, etc.