This section provides an overview for welding gear as well as their applications and principles. Also, please take a look at the list of 42 welding gear manufacturers and their company rankings. Here are the top-ranked welding gear companies as of December, 2023: 1.Evermatic, 2.Acme Tools, 3.WeldingOutfitter.com.
What Is Welding Gear?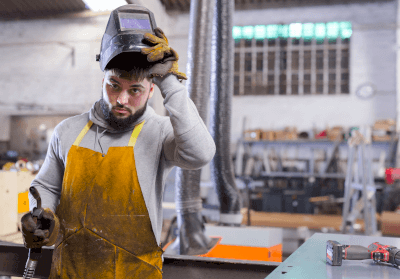 Welding gear is a variety of protective equipment worn during welding to ensure safe operation. For example, in arc welding, it is necessary to protect the body from sparks and intense light, as well as from electric shock. Therefore, it is important to wear clothing appropriate for the work to avoid accidents and injuries.
The following protective equipment should be worn when working with arc welding:

For example, protective welding masks, safety hats, light shielding glasses, dust masks, arm covers, front covers, leather protective gloves for welding, safety shoes, and foot covers.
Uses of Welding Gear
Protective equipment required for welding is used for the following applications:
Protective Surfaces for Welding
Protects the operator's eyes from harmful rays generated during welding and protect the face and head from spatter.
Dust Masks
Protection against inhalation of fame and other dust particles generated during arc welding.
Front Coverings
Because sparks fly during welding, it is necessary to work in clothing that is flame-resistant. Leather headgear is suitable for this purpose, as synthetic fibers and cotton are flammable.
Leather Protective Gloves for Welding
Leather gloves are best suited for welding because, as with the front cover, the material must be flame-resistant and heat-transfer-resistant.
Principles of Welding Gear
Welding protective goggles are available in two main shapes: helmet and hand shield, with the helmet type divided into two types: headgear type and safety cap type. Both types are used to protect the eyes from ultraviolet rays and intense visible light generated during welding, and to protect the face, head, and throat from flying arcs and spatter during welding.
All types of protective welding surfaces are equipped with shields, but the main materials used for shields are acrylic or polycarbonate. These two materials differ in impact resistance, heat resistance, and chemical resistance, so it is necessary to select a shield suitable for the job.  
As a criterion for selecting a protective shield for welding, it is advisable to select one that does not obstruct the wearer's vision and allows the shield to be replaced freely. It is also important to make sure that the welding surface does not allow the rays of light to leak through the details of the protective surface during welding.
*Including some distributors, etc.
*Including some distributors, etc.