What Is an Arrester?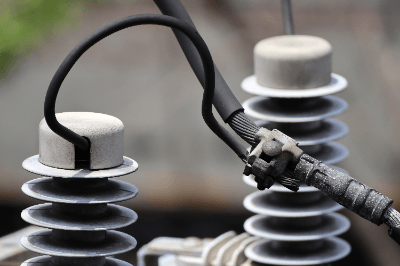 An arrester is a lightning arrester that prevents damage to equipment caused by lightning and other lightning events.
When lightning strikes directly, large currents and voltages explode in the vicinity. These are called lightning surges, and they have a variety of adverse effects on electrical equipment. There is also the danger of destroying not only power transmission and distribution equipment but also electricity demand facilities through power lines.
The purpose of installing arresters is to discharge these lightning surges and protect electrical equipment from lightning.
Uses of Arresters
Arresters are used to protect electrical equipment from lightning surges generated by lightning. Specific uses of arresters are as follows:
Inside of power receiving and distribution panels at power plants and substations
Inside large DC current-carrying equipment for electrolysis
Mid-belly of overhead instrumentation wiring
Mid-belly of overhead telephone lines
Mid-belly of low-voltage power lines
There are two types of arresters, one for signal wiring protection and the other for power transmission and distribution line protection, each of which differs in size and scale. In addition, outdoor electrical facilities are more likely to be affected by lightning strikes and are generally protected by arresters.
Principle of Arresters
Arresters are broadly classified into two categories according to the discharge method: gapped arresters and gapless arresters for discharging.
1. Arrester With Gap
An arrester with a gap is an arrester in which a gap exists between the wire and the grounding pole. Normally, the gap is insulated by the nature of the gap, but when an abnormally high voltage such as lightning occurs, the insulation of the gap is destroyed and discharges a current to the earth. However, the insulation may be destroyed if the device is struck by lightning more than once at a time. Another disadvantage is that it is difficult to miniaturize.
2. Gapless Arrester
A gapless arrester is an arrester in which no gap exists. Instead, elements such as zinc oxide are used. They are characterized by their current-voltage characteristics that are ideal for lightning protection, minimizing the current flowing to the ground during steady-state operation. This type of arrester is currently the mainstream.
Other Information About the Arresters
1. Classification of Arresters
Depending on their purpose, arresters can be divided into two categories: those for power supply and those for communication. When used for power supply, they can be classified from Class I to Class III.
Class I: Electric power draw board
Class II: In distribution boards and control panels
Class III: Near electrical and electronic equipment
For telecommunications, the categories are subdivided as A1, A2, B1, B2, B3, C1, C2, C3, D1, and D2.
2. Installation Criteria for Arresters
According to the technical standards for electrical equipment, arresters are to be installed in customers with power contracts of 500 kW or more; if a device with a built-in arrester, such as PAS (air-load switchgear) or UGS (underground line load switchgear), is selected, it can be used as an alternative.
Since the purpose of installing arresters is to protect electrical and electronic equipment from lightning surge voltages, it is important that they discharge quickly to the ground when a surge occurs. Therefore, it is necessary to consider the installation location and grounding resistance of the arrester. As for the installation location, it is desirable to install at a location where lightning surges can easily penetrate, so it is generally recommended to install at the power receiving point.
In addition, to suppress abnormal voltage, reducing the grounding resistance of surge arresters is effective. When the grounding pole is class A, the grounding resistance is specified to be 10 Ω or less, but an even lower resistance will have a great effect. To suppress grounding resistance, there are several methods, such as increasing the wire thickness or shortening the laying distance of the grounding wire. Increasing or enlarging the size of buried metal is also effective.
A similar term is lightning rod, but care should be taken not to confuse the two. Lightning rods also have standards for installation, so it is necessary to check building codes and other regulations before installation.
3. History of the Arrester
Until the 1960s, gapped arresters were the mainstream. However, gapped arresters were prone to ground fault accidents due to fouling of the gapped area. In addition, it was difficult to reduce the size and weight of the gapped arresters in order to secure the gap.
In the 1970s, a Japanese manufacturer developed a gapless arrester using zinc oxide. Because of their compact size, light weight, and high reliability, gapless arresters using ZnO are now the mainstream type of arresters.
*Including some distributors, etc.
*Including some distributors, etc.