This section provides an overview for core drills as well as their applications and principles. Also, please take a look at the list of 21 core drill manufacturers and their company rankings.
What Is a Core Drill?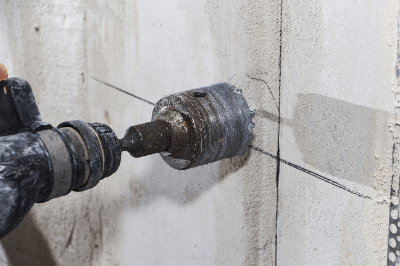 Core drills are drills widely used in construction sites to drill large cylindrical holes in concrete, plasterboard, mortar, bricks, and other materials.
By simply changing the cutting edge, core drills can drill holes into various materials used in construction work. In air conditioner installation, water piping, and electrical wiring work, core drills are indispensable tools at home construction sites. They can drill large-diameter holes that cannot be drilled with ordinary drills in a single shot and are highly efficient.
Uses of Core Drills
Drill bits cannot drill holes larger than 100 mm in diameter, and the materials to be drilled are limited. Core drills are attached to the tip of an electric hammer drill, etc., and the cutting edge is selected to suit the material to be drilled.
There are various types of core drill cutting edges, including "multi-type" for various materials such as reinforced plastic, siding, and PVC pipe, "for ALC," which is hard and has reinforcement striations and is difficult to process, and dry and wet types.
Principle of Core Drills
Core drill selection is first divided into wet or dry type. The dry type drills without using water, so it is not affected by the environment and can be drilled anywhere without the need for curing. Wet processing enables high-speed processing by using water, and the blade can last longer, but it requires an environment for drainage and curing, and a separate water supply facility must be provided.
In addition to the ALC and multiple types mentioned above, there are also "vibration core drills," which use vibration to drill holes while crushing the material, and "composite core drills," which can drill holes in multiple materials simultaneously, such as metal and insulation materials. The vibration type is used for hard and difficult-to-machine materials, and the processed holes are clean because there is little cracking.
The composite material type is capable of drilling holes in walls made of multiple materials, which is difficult with the vibrating type, and in wood that has nails in it.
*Including some distributors, etc.
*Including some distributors, etc.