This section provides an overview for argon gas as well as their applications and principles. Also, please take a look at the list of 7 argon gas manufacturers and their company rankings. Here are the top-ranked argon gas companies as of December, 2023: 1.NDIANA OXYGEN COMPANY, 2.Air Products, 3.Heresite Protective Coatings, LLC.
What Is Argon Gas?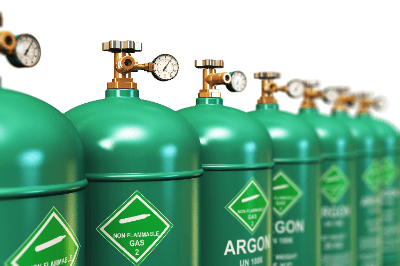 Argon gas' element number is 18 and its symbol is Ar. The etymology of the word means "lazy" in Greek and refers to its non-reactive characteristics.
Argon is used to create an inert atmosphere and used in this way to produce titanium and other reactive elements. It is also used by welders to protect welds and in incandescent light bulbs to stop oxygen from corroding filaments.
Because argon is the most abundant of the noble gases (0.93%v/v in air), its coexistence with oxygen is problematic.
Properties of Argon Gas
Argon is a colorless, odorless gas and a noble gas belonging to group 18 of the periodic table of elements. Group 18 elements include helium, neon, krypton, xenon, and radon in addition to argon. All of these elements exist in the atmosphere in gaseous form.
The most important characteristic of noble gases is that they are inert gases with very low reactivity due to their very stable electron configuration (however, even noble gases can be made to react under certain conditions.) Inert gases are used to avoid chemical reactions that accelerate degradation, which occurs in oxidation and hydrolysis reactions between the sample and oxygen or moisture in the air.
In particular, purified argon and nitrogen gases are the most commonly used inert gases due to their natural abundance (78.3% N2 and 1% Ar in air) and low cost. In particular, while argon is more expensive than nitrogen, its inertness is lower than nitrogen, making argon suitable for materials and environments where it would react with nitrogen. Argon has about the same solubility as oxygen and is 2.5 times more soluble in water than nitrogen.
Argon has a lower conductivity of heat than air, so better thermal insulation can be achieved by adding argon to the gaps between glass.
Uses of Argon Gas
As an inert gas with very low reactivity, argon provides an inert atmosphere that prevents it from reacting with oxygen in semiconductors and steel. Argon gas is used in arc welding to prevent reactions with molten metal.
Argon is also used in fluorescent tubes and low-energy light bulbs. Fluorescent bulbs contain trace amounts of mercury and argon, and argon assists the discharge of the filament. The low reactivity of argon is used to extend the life of the filament.
In food products, argon is also used as an encapsulating gas for wine. This is not only to prevent oxidation, but also because argon, which is heavier than air, effectively flushes oxygen out of wine bottles.
Argon also has a lower thermal conductivity than air or nitrogen. For this reason, double-glazed windows use argon to fill the gaps between the panes.
Thus, argon is used in various industrial fields, especially because of its low reactivity and because it is the most abundant noble gas.
Hazards of Argon Gas
Argon gas is a non-hazardous substance when used normally. Argon is present in the air at about 1%, and we inhale it with oxygen and nitrogen when we breathe. Argon itself is not toxic, and inhalation of low concentrations has no effect. Argon is also an inert gas (nonflammable), so it will not react with other substances or cause fires in normal environments.
On the other hand, inhalation of high concentrations may cause asphyxiation, so environments with high concentrations should be avoided.

Since it is often handled filled in cylinders, there is a risk that the gas concentration in a room may become high due to leakage from the cylinders. This can be remedied by immediately stopping the source of the leak and providing adequate ventilation in the room. When handling liquefied argon, the cylinder itself becomes very cold due to the heat of vaporization when argon evaporates, so there is a danger of frostbite if you touch it with bare hands. In such cases, protective equipment can be used to ensure safe handling.
Argon Gas' Purification Method
High-purity argon for cylinder gas is produced by separating argon from the air. In this case, the "deep-cooled air separation method" is used. In this method, water and carbon dioxide are first removed from the air by pretreatment, and then the purified air is cooled to a very low temperature of -170 to -190℃ to separate the gases in the air using the difference in vapor pressure (i.e., the difference in boiling points).
Incidentally, the boiling point of nitrogen is -195.8°C, oxygen is -183.0°C, and argon is -185.7°C. Using this method, oxygen, nitrogen, and argon are separated and purified from air, respectively.
Cylinders of Argon Gas
Argon gas is usually sold in cylinders. Types of cylinders include general containers and cryogenic containers. While a high-pressure gas-related qualification is required for the production and sale of argon gas, no specific qualification is required for the use of gas cylinders.
In general containers, argon is filled at a high pressure of 14.7 MPa in its gaseous state. Cylinders are available in sizes of 7000L, 1500L, and 500L, depending on the amount of argon filled. A 7000L cylinder weighs approximately 60 kg, so care must be taken when carrying and transporting it.
In addition, very high purity argon gas may be required depending on the intended use, but argon gas is sold in cylinders of gas with a purity of up to 99.9999% (six nines).
In cryogenic containers, argon is filled in a liquid state. Since the amount of argon filled is greater than that of ordinary containers, they are suitable for large volume consumption. It also reduces the frequency of replacing cylinders, which helps to keep costs down. Cylinders are available in sizes of 127,000 L or 36,000 L. Because they are quite heavy, they require a distributor or specialized contractor to carry and transport them.
*Including some distributors, etc.
*Including some distributors, etc.